EYFS
Welcome to the Foundation Stage page. I am Miss Cotton the Early Years Foundation Stage Lead. We have an AMAZING team in the Foundation Stage that all work with your children both in Nursery and Reception.
Our Team is made up of
Miss Stendall - Nursery Class Teacher
Mrs Slack and Mrs Brearley - Nursery Teaching Assistants
Miss Cotton - Reception Class Teacher
Mrs Livingstone - Reception Class Teaching Assistant
Mrs Pope- Learning Support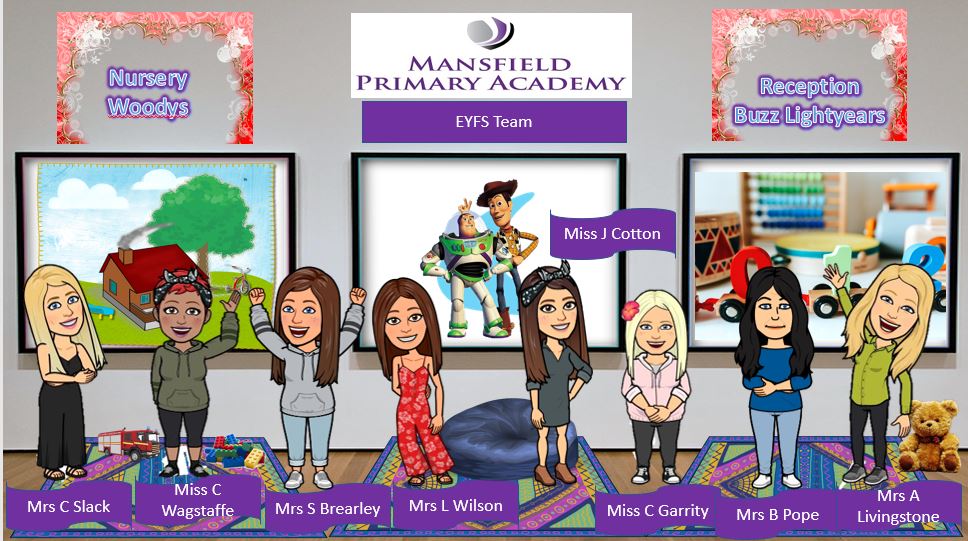 This year we are trialling the Early Adopter pilot scheme which has changed the assessment criterias within the Early Years.
Early Years – Early Adopter Status
At the end of their Reception year we assess your children and decide if they have met a set of Early Learning Goals in different areas of learning. The government has decided to change the Early Learning Goals that we use to assess your child and has offered schools the chance to adopt the new Early Learning Goals one year early, in September 2020.
Our school has decided to become an Early Adopter School and from this year we will be using the new Early Learning Goals to assess your children at the end of their Reception year. New guidance to support learning over the Reception year has been released alongside these new early learning goals, this is called Development Matters. Development Matters is not a checklist of things that your child should do, rather it is guidance for adults who work with children, to help them to support and embed your child's learning journey.