Year 5 Topic- Blast off into space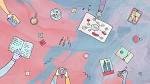 Journey into Outer Space!
Please enter your space rockets now are travel to https://www.bbc.co.uk/bitesize/topics/zkbbkqt
There are lots of fascinating space videos to watch. I loved the film presentations you made to showcase your learning last term. Can you make a video or a poster to explain why we have day and night! You can use props if you need to.
...3-2-1 Blast Off!
The weather is so beautiful. The sun has most definitely got his hat on! What information can you find out about our incredible sun, use the bbc bitesize link above or do your own research! You could present this as a quiz to test your family- you could even film them doing it , like a game show! Or if you prefer make a fact sheet or a video diary.
Competition Time
Design and build your own space rocket! (Get creative! Use recycled household material, or build it in the garden!)
Upload photos of your finished product onto class dojo.
Tweet your and tag Mansfield Primary Academy!
Deadline for entries Monday 27th April.
Our winner: Sophie ! Well done Sophie, as super entry!
Project
Create your own space project.
You can choose what you include, reseach on BBC Bitesize (link above) or Epic Books and put together a week long project. Include posters, artwork, fact sheets, stories, newspaper articles, a quiz, and video presentations- you choose! Do a little bit everyday and photograph or video your work on Friday to show us what you have achieved!