Year 6 Topic Page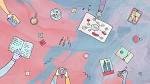 This page contains work and information for Year 6 Topic.
The link below will take you to a grid that you can complete whilst off school. Each activity is worth a certain amount of points, the pupil with the most points will earn rewards and dojos!
A new grid will be added each week. Remember to let Mr Derry know when you have completed a task via Microsoft Teams.
Creative task? Take a picture and send it to the class!